Christopher Garcia y Jeronimo Jxel Rajchenberg D.M.A.

"Combining elements of indigenous music of Mexico and South America into a contemporary language,
​ Jxel Rajchenberg and Christopher Garcia take their audience on an unchartered journey. With a musical
​ vocabulary that spans centuries and cultures and a deep respect for tradition, they ​ spontaneously bring
the voices of their ancient instruments into modern times."
HARRISON HOUSE
Powered by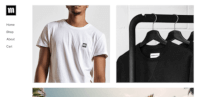 Create your own unique website with customizable templates.